Welcome to the MESA/Boogie

®

Online Store
for Parts & Accessories!
This is the official factory store for MESA/Boogie Ltd., where MESA parts and accessories are available for online purchase to residents of the United States and those countries not represented by an Authorized MESA Distributor.
• International Sales
• Shipping
• Order Processing
• Returns
• Questions
International Sales
Residents of the following countries are not able to purchase from our online store. Click on your country below for details of the nearest Authorized Distributor. They will be happy to assist you.
Andorra, Argentina, Australia, Austria, Belarus, Belgium, Bolivia, Bulgaria, Canada, Chile, China, Costa Rica, Czech Republic, Denmark, Dubai, England, Estonia, Finland, France, Georgia, Germany, Guernsey, Hong Kong, Hungary, Indonesia, Israel, Italy, Japan, Jersey, Korea, Latvia, Lithuania, Luxembourg, Macau, Macedonia, Malaysia, Monaco, Netherlands, New Zealand, Northern Ireland, Norway, Paraguay, Peru, Poland, Portugal, Republic of Ireland, Russia, San Marino, Scotland, Singapore, Slovakia, South Africa, Spain, Sweden, Switzerland, Taiwan, Thailand, Turkey, Ukraine, United Arab Emirates, United Kingdom, Vatican City, Wales
All online orders are shipped via UPS Ground for US residents & UPS Worldwide Saver for International shipments or USPS Priority Mail (size permitting).
USPS Priority Mail generally takes no more than 3 days, from the time the package is picked up, for delivery within the 48 contiguous States. U.S. residents see below for UPS Ground Service estimates (once shipped).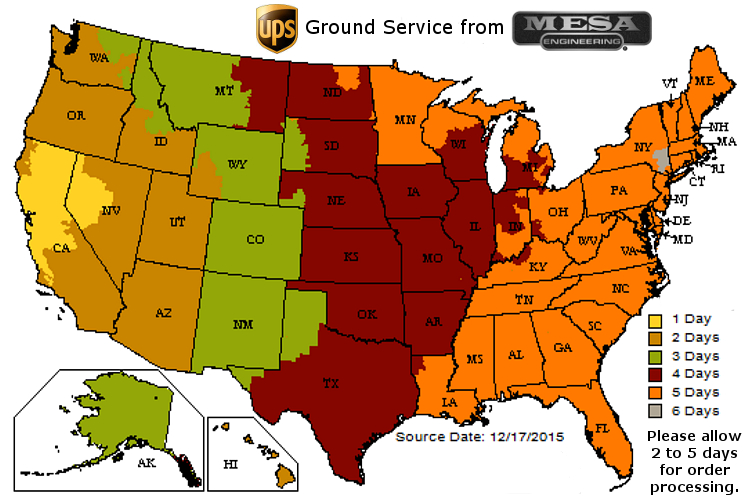 Order Processing
Please allow a minimum of 24 business hours for order processing. Business hours are Monday - Thursday 9:00 AM to 5:00 PM PST. Orders placed late on Thursday through Sunday will process on Monday and ship on Tuesday. Please contact us at (707) 778-6565 should you require expedited service.
If an item is out of stock, we will contact you via email regarding backorder status.
Product Return & Restocking Information
We request you obtain a RMA Number BEFORE returning any item to MESA/Boogie. Click here for directions to obtain a RMA Number or Contact Us for return assistance. You may return a product within 30-days provided the product is still in new condition with all of the original packaging.
Please Note: There is a 15% restocking fee for all returned items.
Questions
If you can't find an item, have additional questions, or need to ensure an order is expedited, please call our factory at (707) 778-6565 and place your order with one of our Customer Support Representatives. We are happy to assist you Monday through Thursday 9:00 AM to 5:00 PM PST.