Welcome to the MESA/Boogie

®

Online Store
for Parts & Accessories!
This is the official factory store for MESA/Boogie Ltd., where MESA parts and accessories are available for online purchase to residents of the United States and those countries not represented by an Authorized MESA Distributor.

• Free Shipping Offer
• Shipping
• Order Processing
• Returns
• International Sales
• Questions
The MESA/Boogie Parts & Accessories Store offers FREE SHIPPING for all orders $99 or more shipping to the LOWER 48. Orders of $99 or more (prior to any applicable taxes) ship for free in the lower 48 United States via UPS Ground or USPS Priority Mail (determined by package size). Typical delivery times range from two to five business days depending on your location and the time your order was placed. See our Shipping & Returns Page for more details.
Additional Shipping Options
If your order does not qualify for free shipping you will still enjoy reasonable shipping rates. After entering your State and Zip Code while viewing your Cart, click the Estimate Shipping button and we'll show you your shipping options. These same options are also available on your Checkout page. Just select the method you prefer and proceed with your purchase. Please Contact Us should you require expedited service or have further questions.
See our Shipping & Returns page for additional details regarding Shipping, Order Processing, International Sales or Product Returns.
Please Note
There is a 15% restocking fee for all returned items.
Should you return an item that was part of a free shipping offer, the cost of shipping will be deducted from your credit or refund.
MESA/Boogie reserves the right to withdraw or change the terms of free shipping offers at any time.
All online orders are shipped via UPS Ground for US residents & UPS Worldwide Saver for International shipments or USPS Priority Mail (size permitting). *PLEASE NOTE* Import fees, duties or taxes are not collected on this site for International orders. Click here for details regarding our current Free Shipping Offers.
USPS Priority Mail generally takes no more than 3 days, from the time the package is picked up, for delivery within the 48 contiguous States. U.S. residents see below for UPS Ground Service estimates (once shipped).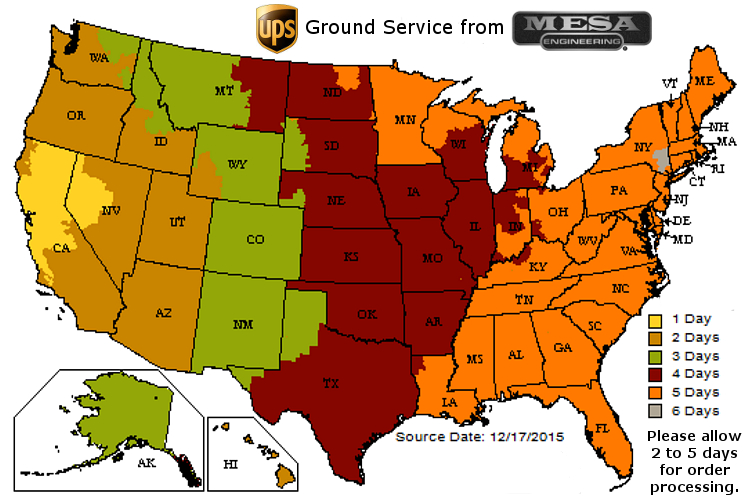 Please allow a minimum of 24 business hours for order processing. Most orders ship within 24 to 48 hours of being placed. Orders placed between Thursday afternoon & Sunday will generally ship by the following Tuesday. We will contact you via email if unable to fulfill an order within our normal time period. Our business hours are Monday - Thursday 9:00 AM to 5:00 PM PST. Please contact us at (707) 778-6565 should you require expedited service.
You are welcome to log into your account to check your order status. The following designations most often denote order status.
"Awaiting Payment" - The order has been initiated. Funds will show as pending, or on hold from the customer's banking institution. Funds will not be charged until items have been confirmed "in stock" or our Customer Service rep has confirmed you would like your item(s) placed on back-order. If an order is canceled due to out of stock items, pending funds are released and available back into the customer's account within 24 hours.
"Awaiting Shipment" - Payment has been captured, but the order has not shipped from the factory. All orders typically take 24 to 48 hours to process. This status may appear for longer on some orders due to item(s) being out of stock, or when an order was placed in relation to our business hours. A Customer Service rep will be in contact for all "out of stock orders" to determine if items will be placed on back-order or canceled.
"Shipped" - The completed order has been shipped. There will be a tracking number that can be accessed within your MESA store customer account.
Product Return & Restocking Information
We request you obtain a RMA Number BEFORE returning any item to MESA/Boogie. Click here for directions to obtain a RMA Number or Contact Us for return assistance. You may return a product within 30-days provided the product is still in new condition with all of the original packaging.
Please Note: There is a 15% restocking fee for all returned items. Should you return an item that was part of a free shipping offer, the cost of shipping will be deducted from your credit or refund.
International Sales
*PLEASE NOTE* Import fees, duties or taxes are not indicated or collected on our site for International orders and will be collected by your carrier before delivery. We suggest researching these charges before ordering to avoid surprises.
Sales & Support of MESA products are handled by an Authorized Distributor in several countries. For this reason, residents of the following countries are not able to purchase from our online store. Click on your country below for details of the nearest Authorized Distributor. They will be happy to assist you.
Australia, Hong Kong, Israel, Korea, Macau, Malaysia, New Zealand, Puerto Rico, Russia, Singapore, Switzerland, Taiwan & Ukraine
Questions
If you can't find an item, have additional questions, please Submit a Request on our Support Site to reach our Customer Support Team. Should you need to ensure an order is expedited, please call our factory at (707) 778-6565 and place your order with one of our Customer Support Representatives. We are happy to assist you Monday through Thursday 9:00 AM to 5:00 PM PST.